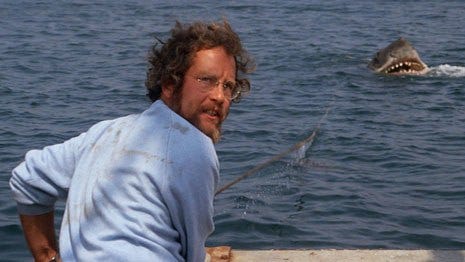 If you look at my fifth grade yearbook, under my name you'll find that I aspired to be a movie director. I don't remember why I wanted to be a movie director. We didn't watch many movies in my family. Nobody in my family was ever a movie person. Maybe I thought I'd be good at telling people what to do, how to execute a vision, or bring some magic to life. Sadly, I never became a movie director and I think the dream of being one died rather quickly as I grew up.
There's a level of intimacy involved with going to the movie theater. In the hush of the movie you're watching, you hear the crinkling of plastic wrap candy, chewing of popcorn, the occasional cough, and other absolutely disgusting bodily functions. In a place where you're supposed to sit silently, quietly, and passively, the theater feels alive.
I stopped watching movies for a while and then, suddenly without warning, I started again. I was lured in by MoviePass which promised unlimited movies for a fixed price per month. It was too good to be true. If you followed along with the MoviePass news, you'd have seen their rollercoaster of a year where plans suddenly changed, select movies stopped being available options, and, what was the most ridiculous thing to happen, MoviePass started changing passwords of its most active users. If you visit the Twitter profile of MoviePass, every post is ratio'd with unsatisfied customers.
MoviePass came into my life at a time when I was between graduate school and full-time work. I was living off an unbelievably low amount of money throughout the summer. I rationed food. I couldn't afford to use the AC. Every dollar I earned was budgeted appropriately. MoviePass was a luxury. I felt embarrassed by how much I couldn't do in the city that summer. I turned down invites not because I didn't want to do things, but because I really couldn't afford them until I found full-time work. MoviePass was a great excuse. I spent all summer going to the movies. I saw three to four movies a week, walking to different theaters around the city.
I loved going to the movies. Sometimes, I wouldn't even read any description of the movie I was seeing. I would walk in blind. I felt free. I opened my mind to a lot of movies I wouldn't have otherwise watched. I felt like a regular. In a movie theater, you can feel like a regular and also be anonymous. Nobody asks why you're alone. Nobody comes to talk to you. You're not forced to do small-talk with anyone you don't want to. I loved going to the movies during the middle of the day. It'd break up my schedule and be a sweet and cold break from the heat.
I felt like a movie person—in the sense that I saw movies and could talk about them with others. I loved tweeting about movies, reading articles and reviews, seeing what movies people were talking about. Being an English major in undergrad, I cultivated skills to analyze literature, but movies always felt a bit foreign. There's a lot to take in. Plot, characters, dialogue and on top of all that there are the visual elements, score, acting. I know, inherently, what is a good movie to me. The plot has to be strong. The characters have to be believable. And those visuals? They damn well better be fucking beautiful.
I met a director during my summer of MoviePass. Jeremiah Zagar, director of We the Animals, had a two night Q&A session at the indie theater I regularly attended. I read the novel in anticipation of the film. The film itself was wonderful and, seeing it as a queer person with straight siblings, I related to the complexity of identity Zagar was portraying. During the Q&A session, there were routine questions about what it was like to direct the film, what inspired the director, etc. Not feeling brave enough to talk to the director during the audience Q&A, I walked up to him after and thanked him for his work and how honest the portrayal felt despite him not identifying as queer. It was the first time I had ever met a director.
I never thought I'd get back into movies. I have a hard time watching a movie at home on my TV. I mean, I can, but it's not the same experience as seeing one in the theaters. I end up texting, or falling asleep, or having my mind wander in the middle of the movie. Two hours of a movie feels impossible to watch, even though I can confidently watch eight hours of TV shows straight.
In the theater, I am surrounded by the movie, the sounds, the feelings. A part of me becomes a part of the movie. A part of me becomes a part of the others watching the movie with me. Leaving the theater, you feel a sense of solidarity. For a few hours, you moviegoers were together in what you were experiencing. You laughed together. You held your breath together. You waited in anticipation to see how the plot would unfold together. You were strangers when you entered, but when you leave you are just a little bit closer to one another if only for a few minutes.
Eventually, MoviePass stopped working. Movies I wanted to see were no longer listed. Theaters I would routinely go to would no longer be available. I held out until the very end. After a year of the service, I called it quits.
I couldn't get myself to stop watching movies all together. I loved going. I signed up for the AMC pass and spent my last few months in Philadelphia taking the subway to Temple University and watching in their theater. Much like the summer of MoviePass, I felt the freedom of seeing what I wanted when I wanted. When I didn't feel like drinking, or if friends weren't around in the city, or if I just needed something to do after work, I'd hop on a train and go.
But nothing could ever match the solitary joy of that first summer of MoviePass.
Image via Universal Studios
---
Letters of Recommendation:
---
If you know someone who would be interested in reading this newsletter, please forward it to them. As always, you can reply to this email and let me know your thoughts. Thanks for reading!